Check Website Speed and Load Time using Google Analytics to improve Website Performance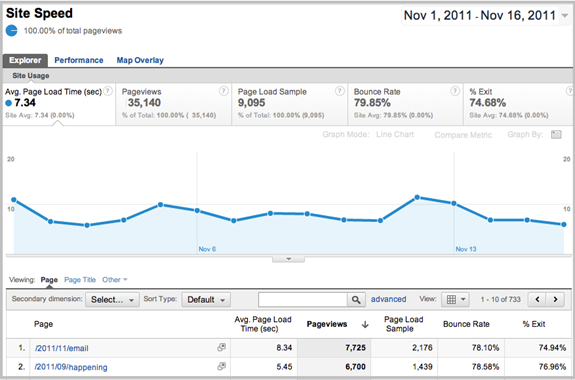 Google Analytics is a premium free web analytics service from Google. It provides very useful information about your websites online performance. Google Analytics add nice features from time to time and became a high quality web analytics tool that really helps the webmasters to analyse, identify and rectify most critical areas where your website needs improvement. Check Website Speed and Load Time using Google Analytics.
To improve the performance of your pages, you first need to measure and diagnose the speed of a page since it matters a lot in search engine results. Website speed is one of the important criteria which webmaster should look on their website as Google gives preference to those sites which fast loader. If you want to know your website speed or want to compare your website speed with other website, Google has come up with a new tool in Google analytics. The website speed report is available in new version of Google analytics. The old version also had the same facility but it required some modification in tracing code.
Steps to check website speed:
Open Google analytics, Go to Standard reporting , In the left side menu block, expend content, Select site speed and Your site speed will be loaded in the right side block of the page
There are other tabs available to check your website speed in different views. These include explorer view (default), performance and Map overlay.
The explorer tab provides overview of load time with each page.
The performance tab group your pages in different range of load times.
The Map overlay Tab give an idea of your page load time, you might learn that the target audience of your site is located in a geographic region that experiences slower page speed. Or, you might learn that certain pages on your site run slower in some browsers.