Hire a Tempo Traveller in Kochi and enjoy a comfortable journey!
Transpire takes pride in providing service in Tempo Traveller rental in Kochi.
You can follow your desire to travel in comfort and luxury with your family or friends by renting a Tempo Traveller from us. This is an amazing way to save both money and fuel. Get your ideal Tempo Traveller to travel around the state or outstation trips comfortably and enjoy the journey with your family or friends.
Luxury Passenger Van / Traveller Rental & Hire
SOMETIMES
JOURNEY
IS MORE IMPORTANT THAN THE DESTINATION
Karmic Luxury Force Tempo Traveller Rental Kochi. Enjoy Amazing Tours Around Kerala With A Great Team Of Expert Chauffeurs.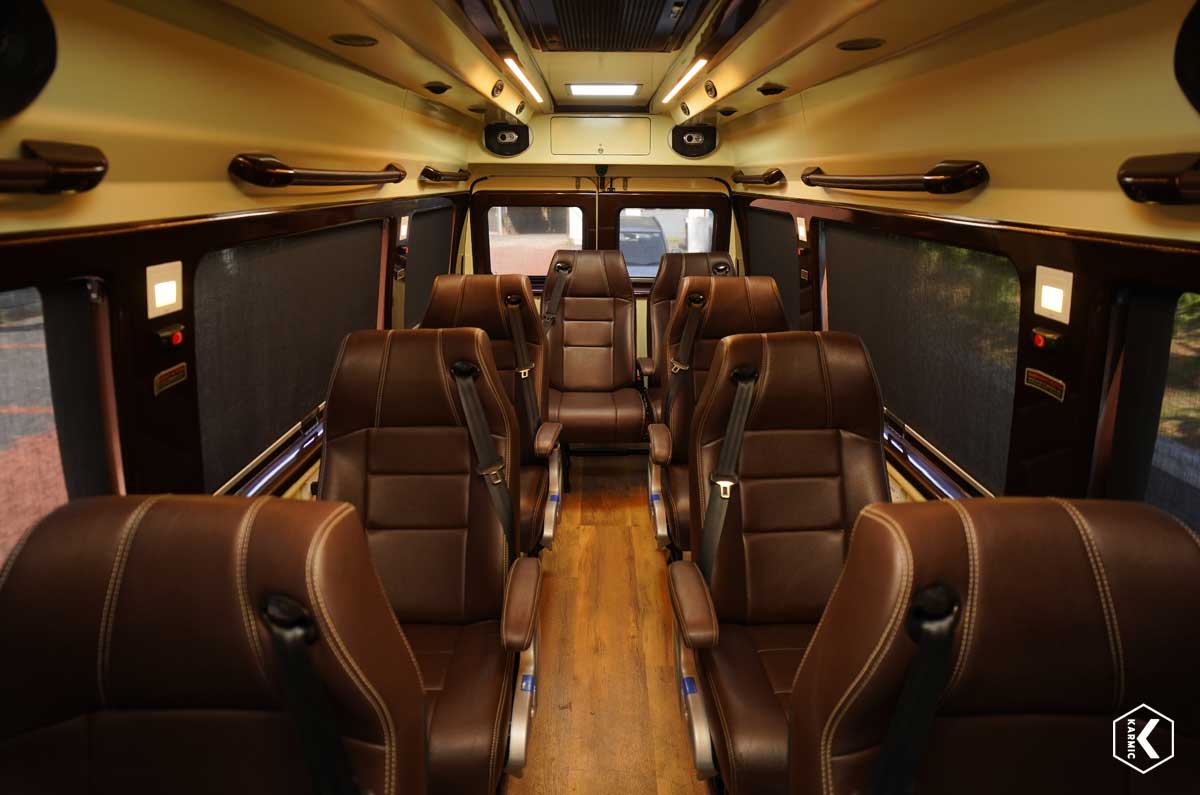 Transpire Holidays
# 7, Telephone Exchange Road, Maradu, Kochi
Phone : 91 98460 89546, 98950 91639
Email : transpireholidays@gmail.com
PERFECT MODE OF TRANSPORT TO TRAVEL IN GROUPS
Be it leisure or business, a Tempo Traveller is an ideal option when you travel in groups. We have a list of Tempo Travellers with different seating capacities and you can choose the suitable one that meets your travel needs. Of course, journeys are tiring but by choosing the right mode of transportation, traveling can be more comfortable and relaxed, especially through the bumpy roads. So, next time when you plan a trip with your family, friends or colleagues, hire a Tempo Traveller from Transpire with a 12 or 18-seating capacity to travel in style and comfort.
ENJOY THE TRIP IN A POWERFUL VEHICLE
With a great braking system and more than 2600 CC engines, you can enjoy a trip in a powerful vehicle made ideal for Indian roads if you choose a Tempo Traveller. You can enjoy a comfortable journey even if the vehicle runs on the bumps and hops on the way. The spacious seating arrangements also make your trip comfortable and relaxed. The space for luggage storage is another attractive feature of Tempo Traveller as passengers can easily accommodate 8-10 large bags and several small bags in it conveniently. We have a Tempo Traveller with a GPS system that helps you to reach your destination without any difficulty.
GET THE SERVICE OF EXPERIENCED CHAUFFEURS
Many travellers prefer to hire a Tempo Traveller from Kochi/Cochin to explore the state or for outstation trips as it is among the most secure vehicles to travel. Since we provide experienced chauffeurs who know all the routes of India thoroughly, you can enjoy a safe, secure and comfortable journey if you hire the Tempo Traveller from us. All our vehicles are equipped with TV, DVD and music system with speakers to entertain our guests during the trip. Be it for a short trip or a long trip, you easily hire a Tempo Traveller in Kochi.
Transpire takes all your travel needs and ensures to make your trip comfortable and hassle-free. Call us or visit our website today to learn about different transportation modes and book your Tempo Traveller for a happy journey.